Monthly Affirmation Calendars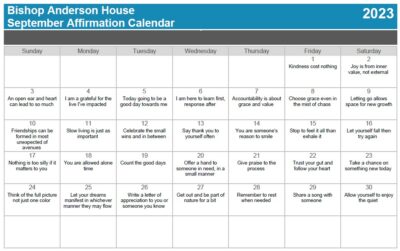 Welcome September!
Look at you, giving people grace.  I see you.  They didn't deserve it, but you gave it anyhow.  You gave it not just for them, but for you.  You've grown.  You've matured.  I'm proud of you.
Now what would it look like if you were as gracious with yourself as you are with those around you?
Hmmmm imagine that…..imagine giving yourself grace.  
That's what this month's affirmation calendar will help us with.
Ready?
Get set!
Give Yourself Grace.
If you'd like to do more than sharing these affirmations and are interested in volunteering to help with a future project at Bishop Anderson House, please let us know by completing the Gifts of Time & Talent (https://www.bishopandersonhouse.org/volunteer/) or help support our ministries with a financial gift (https://www.bishopandersonhouse.org/donate/)
The Rev. Dr. Ebony D. Only, Community Chaplain of Bishop Anderson House, provides spiritual accompaniment attending to the spiritual, emotional, relational and practical care of those involved in helping professions.  She helps to address moral distress and improve resilience by offering:  
Resilience Tools – on demand workshops and coordinating wellness offerings including wellness lounges, massages and retreat facilitation 
Coaching – to support setting and achieving goals around self-care, emotional health, relationships, career, education and leadership 
Spiritual Care & Accompaniment – pre-marital preparation, post-marital coaching, grief support, and referrals where appropriate 
Spiritual Care Visitor Training – onsite or online 8-week program to train those who would be responsible in your community to provide spiritual support and accompaniment  
Previous Monthly Calendars