Monthly Affirmation Calendars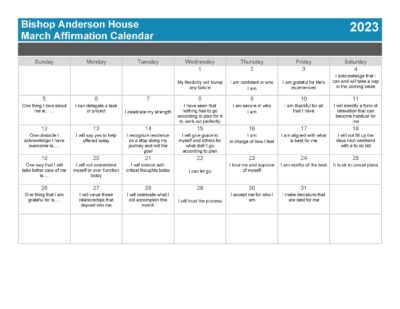 Oftentimes gratitude is spoken of in terms of what we offer to others and how that in turn makes us feel.  We have learned gratitude helps us to focus on the positive aspects of our lives helping us to build and maintain relationships with others, resulting in hope, life satisfaction, and more proactive behaviors toward others.  This is all true and all great…..
…..AND, this month I would like for us to together focus on the positive aspects of our lives with the hope of building a better relationship with our self-concept, self-image and our self-esteem.  I want us to affirm that which is well and envision that which can be well so that we might come to see ourselves, think of ourselves, feel about ourselves and value ourselves differently.  
I know it's difficult!  We're in helping professions, so all of this talk about self is uncomfortable, but putting on our oxygen masks first means that we can breathe long enough and strong enough to keep doing the work and/or the ministry you have been called to.
Feel free to share this calendar with your colleagues, friends and family.   
In addition to the monthly calendar, The Rev. Dr. Ebony D. Only, Community Chaplain of Bishop Anderson House, provides spiritual accompaniment attending to the spiritual, emotional, relational and practical care of those involved in helping professions.  She helps to address moral distress and improve resilience by offering:  
Resilience Tools – on demand workshops and coordinating wellness offerings including wellness lounges, massages and retreat facilitation 
Coaching – to support setting and achieving goals around self-care, emotional health, relationships, career, education and leadership 
Spiritual Care & Accompaniment – pre-marital preparation, post-marital coaching, grief support, and referrals where appropriate 
Spiritual Care Visitor Training – onsite or online 8-week program to train those who would be responsible in your community to provide spiritual support and accompaniment  
Should you be interested in learning more about any of the additional ways our Community Chaplain can offer you or your organization spiritual care support, feel free to contact me. 
We, here at Bishop Anderson House, are looking forward to journeying with you this year! 
Previous Monthly Calendars