Chaplain Fellow at John H. Stroger, Jr. Hospital of Cook County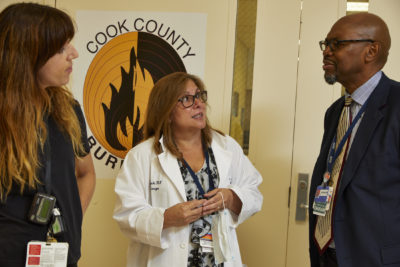 Bishop Anderson House provides a Critical Care Chaplain Fellow to John H. Stroger, Jr. Hospital of Cook County. This pioneering partnership brings professional chaplaincy to a place that has hungered for it for a long time. Simply put, a critical care chaplain provides spiritual and emotional care to the sickest patients in the hospital. Of course, caring for those patients goes hand-in-hand (often literally) with caring for their families. And then the Chaplain Fellow is also there to show extra concern and support for the staff of each critical care unit, so that they can continue doing their intensive healing work without burning out.  Our dream is to grow this partnership, and meet the spiritual needs of people beyond the critical care units.
Currently, the Rev. Dr. Micheal Smith serves as our professional chaplain to John H. Stroger, Jr. Hospital of Cook County. Micheal's career path as an attorney, pastor and board certified chaplain have given him the ideal skill set to navigate the complexities of a county hospital in order to provide the highest level of spiritual care. Micheal rounds 5 units on a regular basis, but during the COVID-19 pandemic he has served hospital staff at all levels and in all locations.
Chaplain Micheal's workload includes not only spiritual care support for patients and staff, but research into organ donation with Gift of Hope Foundation.