Our Namesake
In 1948 The Rev. Richard Young began to develop a vision for a new ministry in the Episcopal Church, one that sought to help graduate medical students integrate science and religion in the healing sciences.  He drew his inspiration from the humanistic aspirations of the Social Gospel and the work of Bishop Charles Palmerston Anderson, 4th Bishop of Chicago.  Bishop Anderson had a vision of the Church as a transformer of society, an agent of change and healing in a culture where the institutions of humanity fall short of our dreams for a better world. The Anderson family remains active and generously supports Bishop Anderson House to this day.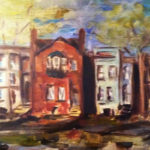 The original "House"
Mission
Under Fr. Young's leadership as Executive Director, Bishop Anderson House combined traditional chaplaincy duties with a ministry to graduate students in the Illinois Medical District, one of the world's largest medical districts.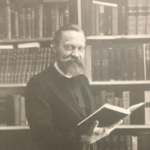 The Rev. Dr. Christian Hovde
Rush Hospital
The Rev. Dr. Christian Hovde succeeded Fr. Young as Executive Director in the l970's, and during his tenure new approaches to providing pastoral care were adopted.  He developed a relationship between Bishop Anderson House and Rush University which culminated in the establishment of the Department of Religion, Health and Human Values at Rush University.  That relationship flourishes in research collaboration, teaching Clinical Pastoral Education students, chaplaincy and education and widening our reach to people from all faith traditions.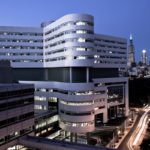 Rush University Medical Center
Pastoral Care Visitors
During the tenure of The Rev. Trenton Pitcher, Bishop Anderson House implemented chaplaincy training programs for clergy and laity, including the Pastoral Care Visitor Program.  This program currently has over 600 graduates serving as volunteer spiritual caregivers in hospitals, nursing homes, congregations and other institutions across Northern Illinois.
Growth and Stability
The Rev. James Risk succeeded Fr. Pitcher in 2003.  The successful Campaign for the Future established a secure financial foundation for Bishop Anderson House to thrive in the face of deep cutbacks in hospital chaplain departments.  Expansion of education programs and active collaboration with the Department of Religion, Health and Human Values ensures that Bishop Anderson House continues to grow as member of the Medical District community.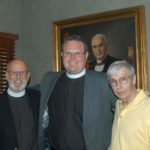 (l-r) The Rev. Canon Jay Risk, The Rev. Tommy Rogers, The Rev. Canon Trenton Pitcher
Today
Under The Rev. Tommy Rogers' leadership, Spiritual Care Visitor Training now reaches a wider audience through online programming, and CPE supervision is a part of our partnership with Rush University, as well as a community-based CPE program facilitated by BAH. Rev. Dr. Micheal Smith is our full-time chaplain at John H. Stroger, Jr. Hospital of Cook County, The Rev. Rose Cicero serves as our part-time chaplain serving women and children and Rev. Dr. Ebony Only is our Community Chaplain working to build relationships with 14 congregations on the near West Side. We continue to partner with hospitals in the Illinois Medical District to offer regular Spirituality and Wellness events for medical practitioners.
Today we continue to drive the vision that Bishop Charles Anderson saw in the early part of the 20th century, creating a "house" where spirituality and medicine meet to advance healing of the whole person.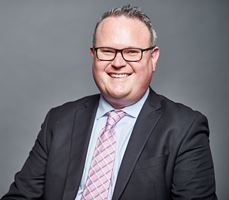 The Rev. Tommy Rogers