Healthcare Equity
---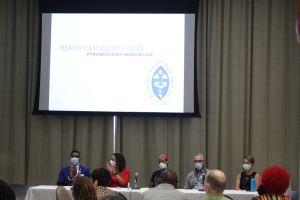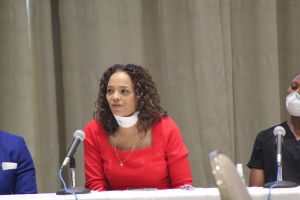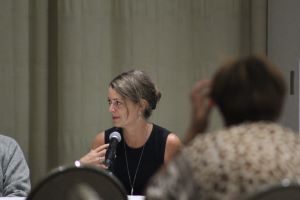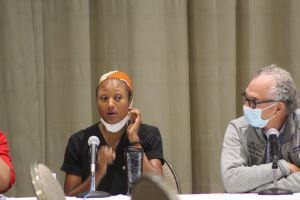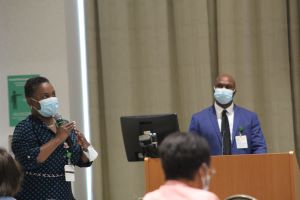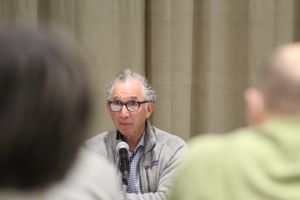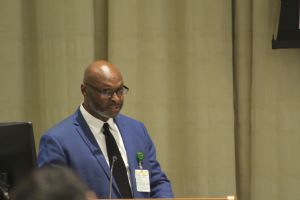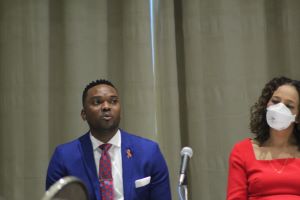 ---
Healthcare Equity Begins With You
by Rev. Dr. Ebony D. Only, Community Chaplain Fellow
On September 9, Bishop Anderson House sponsored a Healthcare Equity Forum to discuss the impact of the lack of healthcare equity and how it was exacerbated by COVID-19. This Forum was an opportunity to hear directly from healthcare professionals and healthcare equity advocates about how we might engage in closing the healthcare equity gap. Our panelists included:
David Ansell, MD, MPH, the Michael E Kelly Presidential Professor of Internal Medicine and Senior Vice President/ Associate Provost for Community Health Equity at Rush University Medical Center in Chicago
Mawusi Arnett, MD, MPH is a physician-entrepreneur with a background in health disparities research and board certifications in Family Medicine and Obesity Medicine.
Ulysses W. Burley III is founder of UBtheCURE LLC, a consulting company on the intersection of Faith, Health, and Human Rights who studied Medicine and Public Health at Northwestern University Feinberg School of Medicine where he went on to train in Allergy, Asthma, and Immunology. Dr. Burley is currently, the Project Director for the HIV Vaccine Trials Network (HVTN) Faith Initiative to connect with diverse faith communities to share evidence-based information regarding HIV and vaccines and antibodies being developed for its prevention.
Elizabeth Lynch, PhD, a health equity researcher focused on development and implementation of effective community partnerships to conduct behavioral intervention research to promote health equity across a wide range of health conditions. Dr. Lynch is the Director of the Section of Community Health in the Department of Family and Preventive Medicine and is co-lead of the Research arm of the RUSH BMO Institute for Health Equity.
Kerri N. Allen, Vice President of Mission and Spiritual Care, serving Patient Services for the Wisconsin Region of Advocate Aurora Health. She is an ordained minister in the Presbyterian Church (USA), a womanist and Reformed theologian and ethicist.
We heard from these experts that improving health and healthcare requires a focus on equity — equity of access, treatments, and outcomes and that health equity can only be realized when every person has a fair opportunity to achieve their full health potential.
We discussed that the differences in access, treatment, and outcomes between individuals and across populations are systemic, avoidable, predictable, and unjust. The panelists gave concreate and real time examples of how inequities and disparities are linked to the complicated history and reality of racism, classism, sexism, ableism, ageism, and other forms of oppression.
Some of these examples of social and environmental factors that were described as limiting access to and continued use of good health practices and healthcare discussed included:
Racial, gender, gender identity and ethnic discrimination
Agesim and ableism
Lack of access to quality education
Income and wealth gaps
Inadequate housing or lack of housing
Unsafe environments
Other forms of oppression
We concluded by acknowledging that by reducing, challenging, or overcoming these obstacles, we can achieve health equity. However, this is not something that any one person can do for themselves. Instead, it requires adaptive changes from community, healthcare organizations, insurers and governments.
I was grateful for the participation of our panelists, moderator and participants. But even more grateful that we vowed our participation would not end on September 9. We were each given and accepted a charge. That charge was to determine how we can make an impact by calling out inequities and disparities when we see them, calling on our elected officials to make healthcare accessible and affordable and by checking our own biases.
Alleviating stark disparities in health coverage, chronic health conditions, mental health, and mortality across racial and ethnic groups in the United States will require deliberate and long-term efforts. We at Bishop Anderson House believe our community to be an integral part of the solution! We hope that you too can join us by taking on this charge and donating to help support our continued efforts. We can indeed all make a difference.