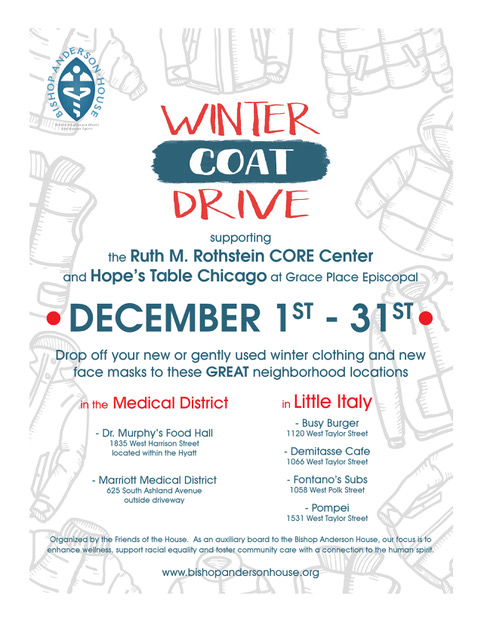 Show you care by keeping folks warm this winter!
Friends of the House, our young professionals service board, is excited to sponsor a coat/winter accessories drive during the month of December. All items will be donated to clients of the CORE Center of Cook County Health and Hope's Table Chicago at Grace Place Episcopal Church.
Are you a knitter? We welcome scarves, hats, mittens from your knitting needles! Contact Ann_Ryba@Rush.edu for pickup of knitted items.
We are very grateful to our partner pick up locations:
Dr. Murphy's Food Hall in the Hyatt
The Friends of the House are like-minded young professionals who resonate with our mission of providing spiritual care to all. The group gathers for social and service activities and provides fresh insight and expertise to our staff and trustees.
We welcome YOU. Please contact Jon, at jonwes@jonwes.com or Kerri at kerri@polymathdesign.com to learn more about our lively group.