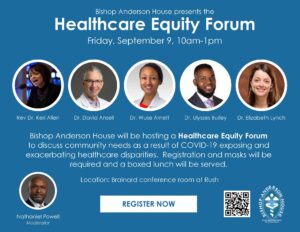 Bishop Anderson House, the Social Responsibility & Racial Justice committee and Community Chaplain, The Rev. Dr. Ebony D. Only, are hosting a Healthcare Equity Forum based on the documentary The Color of Care on Friday, September 9, 2022 from 10:00am – 1:00pm. Several leaders in the healthcare industry will take part in the panel discussion, including: Dr. David Ansell, Dr. Wuse Arnett, Dr. Ulysses Burley, Dr. Elizabeth Lynch and Rev. Dr. Keri Allen.  The discussion will be moderated by Nathaniel Powell, member of the Bishop Anderson House Board of Trustees. 
A box lunch will be provided as we continue the conversation, with vegetarian options available.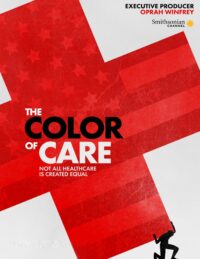 If you are interested in sponsoring this event, you may make a donation by clicking here. 
(Please include "Healthcare Equity Forum" in the Leave a Comment section).